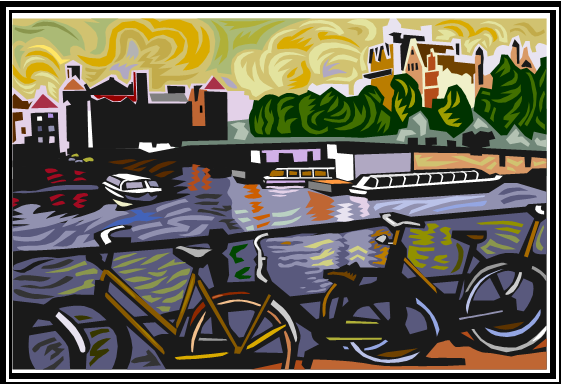 AVALON RIVER CRUISES
 
Avalon's business model states that they retire ships at 6 years.

4 out of 5 of Avalon's river cruise guests have been on an ocean cruise.

New for 2013 is 'Avalon Choice' adding greater flexibility to dining options. Guests can pre-arrange and customize online dining choices and times, even making reservations for 10:30pm. Dining ashore options are available at select ports.

Avalon will provide Nordic walking sticks for active guests.

While in port, regional top chefs will board and prepare local specialty dishes.

Avalon's itineraries are very good because they include a full day in each port rather than a few hours in several ports.

Avalon employs at least 10 people for their kitchen crew including chefs, prep cooks and clean-up tasks. They are required to plate dishes within 7 seconds and have strict timing standards for prompt food service.

Avalon ships offer beauty salons, not a standard feature with other lines.

There is always a promotion to apply to a booking, either discount off the air or the land, or a combination.

The Avalon Angkor ship is the first passenger ship of its kind with just 16 cabins, built to cruise all the way from Ho Chi Minh City to Siem Reap.

Avalon extends a 5% discount to past guests of their partner brands, Globus, Cosmos and Monograms.
AMAWATERWAYS

AMA is a family-owned company. The owners spend much of their time traveling the world seeking new destinations and refining the onboard product. There is a relationship between crew and the owners that one does not see where crew is "outsourced", as is usually the case in river boat operations.

AMA has pioneered the concept of Theme Cruises aboard River Boats. In 2013, these will include Culinary Arts Cruises, Jewish Heritage Departures, and a new, Chocolate theme cruise.

When sailing on an itinerary which includes Vienna, if you opt out of the optional evening concert experience consider dining ashore this evening.  Dinner aboard the riverboat will likely be served quite early (5:30 pm) to accommodate concert-goers.

Be sure to take advantage of AmaWaterway's pillow menu, and a choice of sheets and duvet or sheets and blankets!

Complimentary on all European sailings, AmaWaterways answers the call of the foodie with its "Culinary Delights—Bites & Sights in Europe" program.   Guests partake in cooking classes emphasizing regional specialties, tastings and visits to local markets as well as walking tours with a culinary focus.

AMA's two newest vessels, set to sail in 2013, are the 164-Guest Amaprima and the 106-Passenger Amavida which will sail Portugal's Duoro River, an itinerary perfect for those seeking good wines and picturesque countryside.
GRAND CIRCLE

Balcony Staterooms on the upper deck tend to be quieter as the ship's hydraulics and electric motors are engaged to navigate through the locks.   The itineraries do schedule passage through most of the locks in the middle of the night, so if you are a light sleeper we highly recommend splurging for an upgraded cabin category.

In 2013 Grand Circle River Boats captured six of the top ten spots in the highly regarded Conde Nast Reader's Poll of the world's best river boats.

Guided walking tours can be at an excruciatingly slow pace to accommodate all members of the group. As an alternative, those who like to take in as much as possible will prefer to borrow the ship's bikes and explore on their own.

On the average sailing, more than half of the guests are past travelers with Grand Circle and for those who are new comers, some feel there is a cliquish mentality about the number of trips taken with Grand Circle and being part of the "Inner Circle", the name for their frequent travelers.

The itineraries are regimented so for those who appreciate all details of a trip being pre-planned, Grand Circle delivers.  For those who appreciate some level of serendipity and the chance to dine ashore, Grand Circle offers very little latitude or options in the daily schedule.

On most ships, only twin bedded cabins are offered.  The twin beds are positioned opposite from one another and flip up to create a small settee with a table between.   When folded down, the head of the bed can be elevated creating a chaise lounge with an overhead reading light.

While wine is served with dinner, most guests rate the quality just below supermarket box wine.  If quality wine is important to you, purchase a bottle ashore and enjoy it in your cabin or with dinner for a $5 corkage fee.

This line has an active "roommate matching" program for single cruisers. We do not recommend this program as compatibility issues, often involving medical conditions, can severly impact a small boat vacation.

Grand Circle uses "Program Directors" who are local residents. They offer onboard education seminars, lead tours, and operate as both guides and educators. This is unique to Grand Circle.

Children are not permitted and Grand Circle attracts an older demographic than any of its competitors.

Grand Circle is an American company and there is an absence of non-Americans onboard its vessels. Crew seems better versed in English then they are on most of Grand Circle's Competitors.

Grand Circle's policy of forcing consumers to work with them directly, without the assistance of a travel consultant, has resulted in numerous complaints regarding the post-cruise resolution of problems. Grand Circle offers no consortium benefits and actually penalizes guests who might wish to use their travel agent. As a result of these policies and the lack of outside advocacy for consumers, travel agents do not, as a rule, recommend this line.
TAUCK RIVER CRUISES

Scylla Tours actually owns the river boats Tauck exclusively sells.  There are only 4 Tauck employees onboard; 1 Cruise Director and 3 Tour Directors.  The Tauck and Scylla families have long standing history and friendship.

Scylla is based out of Basel, Switzerland and owns a total of 17 vessels. Scylla only operates the ship while Tauck operates the pre and post-cruise arrangements as well as sightseeing.

In Vienna, the special dinner included in Tauck itineraries (sailings vary) at the Palais Pallavicini is very special.  In fact, it is in an area of the Palace no one else has access to.  Other companies that offer a dinner experience will not have access to this private area and many times there are multiple groups dining together.

Tauck does not make guests pay a deposit or sign forms to use their bikes.

Tauck is truly as all-inclusive as you can get.  It is not unusual for the Tauck Director to offer 20 Euros per guest so they can experience a local lunch ashore.

All alcoholic drinks from the bar and all mini bar items are now included in Tauck's all-inclusive fare.

The Lido Bar is transformed in the evening into a casual restaurant featuring specialty dishes highlighting the chef's distinct skills. Advance reservations are required for this phenomenal al fresco dining experience and only 6 or 7 tables are open for the five course dinner.  The ever-changing specialty menu is posted on a daily basis.

Tauck often negotiates special access to exclusive areas of museums located along their river boat routes.

Tauck's wines that are included with dinner are regional wines, very specific to the area and change daily.  No house brands are served, avoiding much of the "free swill" commentary one hears on some other lines.

A masseuse and separate massage room is available on every ship, a rarity on river boats.

Tauck is launching two new river boats in 2014 along with four new itineraries.. The boats are being custom-built for Tauck with an increase in the number of highly-desired 300 square feet Balcony Suites,
UNIWORLD RIVER CRUISES

Uniworld's River Queen is the only river boat with an operating fireplace on Europe's rivers.

Single Supplements depend on cabin category and sailing however singles should look for the departures offered on a promotional basis where the single supplement is waived.

Uniworld share a Quality of Service standard with their UK-based sister company, Red Carnation hotels.

'Uniworld University' in Basel, Switzerland is where all onboard staff on European sailings are trained for up to 6 months prior to embarking on their first sailing.

Travel Consultants are a critical component to booking a cruise with Uniworld.  They do not solicit consumer direct business.

The average Uniworld guest tend to be over 55 years old, hold advanced degrees and earn an annual household income of more than $100K.

Uniworld refurbishes its ships every 2 years.

The S.S. Antoinette is named for Antoinette (Toni) Tollman, daughter of the founders of the Travel Corporation and owners of Uniworld Boutique River Cruises.  Ms. Tollman was the visionary of the ship's interiors, and she and lead designer Brian Brennan primarily used an 18th century theme reminiscent of a more famous Antoinette–Queen Marie Antoinette of France. The ship's ornate, formal decor looks much like a French chateau.Top deck suites and cabins feature full open-air private balconies, which convert to enclosed conservatories. The vessel also is home to a 20-seat cinema, a rarity for river ships, and the sun deck features a jungle-themed lounge.

World Rivers Day is a global celebration of the world's waterways, observed every last Sunday in September.  This initiative was founded by Uniworld's past guest, Mark Angelo, to increase public awareness and promotes the active involvement of citizens to ensure the health of rivers.

In 2013 and 2014, Uniworld will launch 6 new ships; 3 of which are in Asia including a second ship on the Mekong in partnership with local operator Pandaw.  The 60-passenger River Orchid will be similar to the 60-passenger River Saigon, which Uniworld began operating on the Mekong in January 2012. Both are handcrafted in French colonial style.  The company's two new vessels for China's Yangtze River are the Century Legend and Century Paragon.

Uniworld is the only North American-based Cruise Line to offer river cruising in Italy along the Po River and Venice Lagoon on 2 itineraries. The Po is the longest river in Italy at 405 miles (652 km), rising in the Alps on Italy's western border and emptying into the Adriatic Sea in the east. Italy's River Po Valley boasts a wealth of art, culture and tradition.
VIKING RIVER CRUISES

The designers of Viking's new longships are the experienced architecture team of Yran & Storbraaten, the same were used for Oceania's Marina and Seabourn's Sojourn.

The height under the bed in Viking's cabins is a little over 12 inches.  Keep that in mind while packing for convenient storage of empty suitcases.

There are no cabins with fixed bedding on the new Longships.  All beds can be converted easily to twins.  All the other ships in the lowest category cabins have fixed twin bedding.

Viking offers many vegetarian dining options.

In an attempt to improve the awareness of European River Cruising, Viking has sponsored the PBS Masterpiece classic series and hit TV show Downton Abbey.

Viking currently enjoys approximately 30% of the river cruise worldwide market share.  It is, by a fairly wide margin, the largest river cruise company in terms of tonnage and number of passengers.

Viking River Cruises is a privately hold US company, but they also have offices in the UK and Australia.

Viking has a popular Referral Program that is really another form of discounting. A booked guest who refers someone on their sailing will receive a $100 per person credit for their cruise.  The referred person also gets a $100 per person credit off of their cruise total.  The referring person will receive their credit once the referred person is under deposit and has completed their guest information form.

Viking's newest ships are complete with putting greens as well as organic herb gardens.

In order to make room for their large suites onboard the Longboats, Viking have eliminate the onboard salon and spa.  As an alternative, spa treatments and health club offerings are recommended ashore in select ports.